SWIM BADGES & VALIDATION
Swim badges are one of the most effective ways to manage guests at pools, lakes and beaches. They can be pinned to swimsuits so that they are visible at all times. We offer Forever, Reusable and Seasonal Swim Badges to suit all of your recreational needs. Validation labels are used to identify the year and allow you to reuse badges from season to season. If you have any questions on our swim badge options, please call or email us and we will explain which option is best for your needs.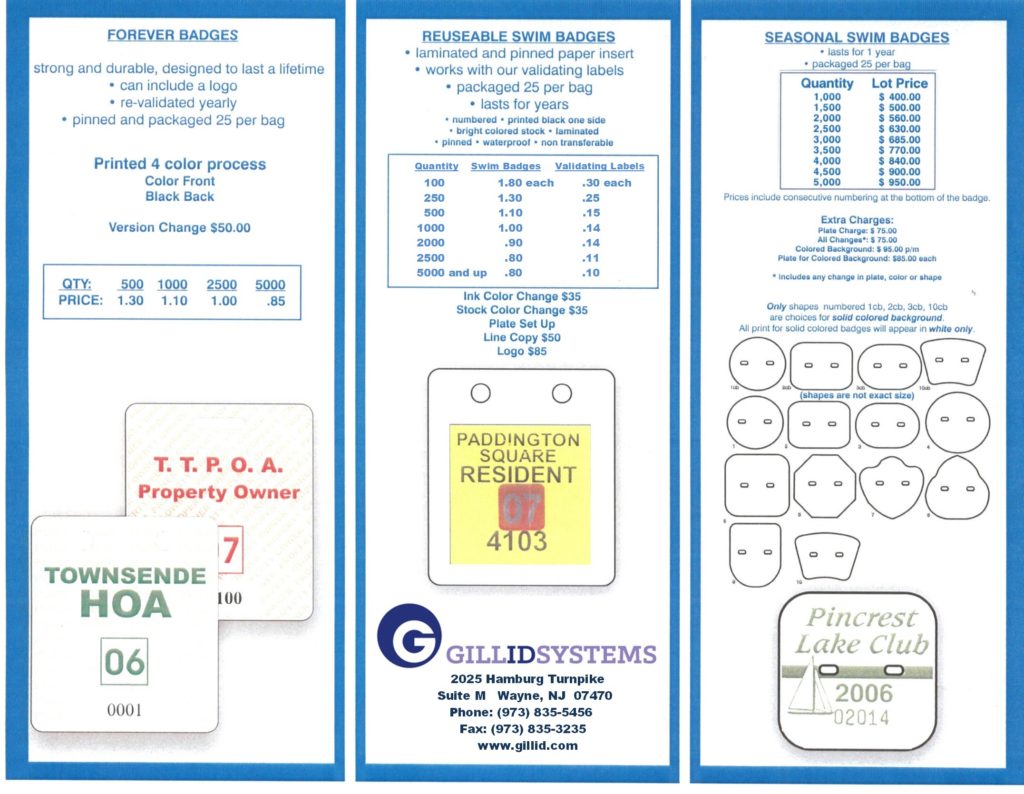 Forever Badges
Forever badges are strong, durable and designed to last a lifetime. They are printed in color and can be used with our validation labels. They come pinned and are packaged in 25 per bag. Please call for pricing.
Reusable Swim Badges
Reusable Swim Badges are laminated with your choice of a bright color stock paper insert. They are printed in black, numbered, waterproof, and are non-transferrable. Badges can be used with validation labels year after year and come pinned and packaged in 25 per bag
Seasonal Swim Badges
Seasonal Swim Badges are made to be used for one year and are available in different background designs and shapes. They are numbered consecutively to keep track of your guests and come pinned.
Validation Labels
Our Validation adhesive labels are 1/2" x 1/2", waterproof and tamperproof. Each year we choose colors that are entirely different from the previous year to ensure a clear distinction at a quick glance. Validation labels are a cost effective solution that allows you to reuse badges and IDs from prior seasons.
WRISTBANDS
Wristbands are a quick and effective way to manage visitors and are used for access to events. We offer three types of wristbands including one time use and reusable options. They are available in almost any color and design and can be personalized with images and text for your specific needs.
Tyvek
Tyvek wristbands, for one time use, are non-transferable, waterproof, non-stretch and 100% recyclable. They are available in 1", 3/4", and 1/2" widths and are consecutively numbered. Below are just a few of the designs that we offer. For availability of colors and designs, please give us a call.View Product PDFSingle Color

Multicolor 1,000 Pack (200 each color)

Checkerboard

Dolphin

Ribbon

Fireworks

Silicone
Silicone wristbands are reusable and can be personalized with a message or logo. Available options for personalization include debossed, debossed ink filled, embossed, and imprinting. They come in almost every color and are just the thing for showing support for a special cause or promoting your organization's message.
Vinyl
Vinyl wristbands, with three layers of vinyl, are a longer lasting option than Tyvek bands. They have a male/female snap with adjustable holes to fit various wrist sizes. There are two shapes to choose from, L-shape and wide face. There is a wide range of colors to choose from and they can be custom printed.
---