Gill Identification offers one of the widest selections of the top ID Card Printers New Jersey businesses and municipalities can rely on for their ID Card Printing needs. Gill will go the extra mile and make sure to fit you with the right system the first time.
There are a few questions you will want to ask yourself to ensure you purchase the correct ID Card Printer that has the necessary features
Are you printing on both sides of the cards?
How many cards will you be printing per year?
Are you looking to have any security features in or on the ID cards?
By answering these questions we can set you up with the best system to suit your needs. At Gill ID we offer support on all of the printers that we sell.
SMART-31 Series
SMART-31 Series value class ID card printer for everyone which is a perfect solution
for printing ID cards at a low budget.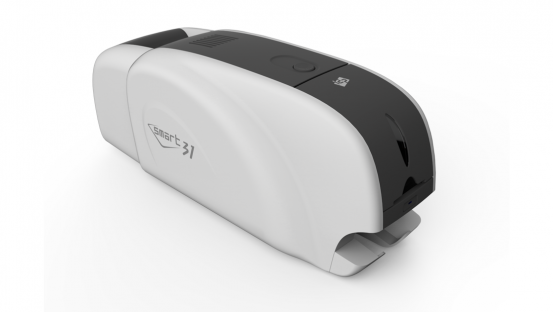 SMART-31S (single-sided), SMART-31D (dual-sided) and SMART-31R (rewritable)
printer models are available.
SMART-31 Rewritable printer is an ideal solution for printing temporary information on ID cards.
SMART Series manufactured by IDP Corporation, is a highly engineered dye-sublimation ID Card printer which provides you with maximum efficiency for production of plastic cards in commercial and govern-ment applications.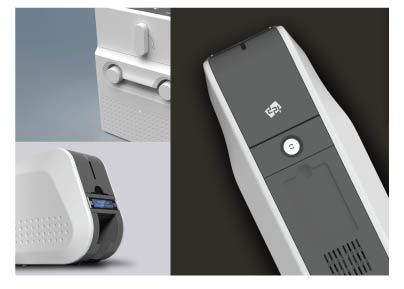 SMART series is designed to support a flexible user environment, which makes it easy to choose the correct printer and save money. You can easily add a flipper or laminator, for dual sided printing or laminating, and various encoders such as magnetic stripe, contact and contactless. ​The enhanced FINE™ Imaging Technology of the SMART series enables you to print high quality images. The SMART Series will be a perfect choice for Employee IDs, Membership Cards, Access Control Badges, Secure Government Credentials, Social Services Cards, and even the instant issuance of Banking cards.
Please come and experience the flexibility and quality of the SMART series.
TECHNOLOGY
Excellent printing with the Enhanced FINE™ Imaging Technology
Direct lamination mechanism for 8-second heat-up. *Patented
Field upgradeable options for dual sided printing and laminating
Field upgradeable encoders for magnetic stripe, contact and contactless smart card
Automatic ribbon recognition and no need for sensors & motors calibration
Eco friendly rewriteable printing (SMART-31R)
500 cards & scratch free (SMART-70). *Patented
High-durability: Metal frame & shaft, all bearing (SMART-51 & 70)
SOFTWARE
SMART SDK, to develop customized applications
SMART Utilities, to check working states and adjust configurations
Smart ID for designing and issuing cards
On-Line technical support
CONVENIENCE
User friendly design for desktop environment
LCD & LED for status display of printer
Easy Thermal Print Head (TPH) replacement
Front input and output hoppers (SMART-31 & 51)
Drop-in ribbon cartridge (SMART-31 & 51)
Full modular design (SMART-70)
Drawer type ribbon cartridge (SMART-70)
SMART-70 Series
High-performance large capacity ID card printer designed by the unique modular concept that can support various printer configurations to meet different user requirements.
500 cards can be continuously printed, laminated and encoded on various cards.
SMART-70 consists of 6 different modules (Input Hopper, Printer, Hybrid Flipper, Laminator, Output Hopper, Laser Engraver) that can be configured in various combinations according to different customer requirements. Required modules can be easily added to extend functions depending on your needs.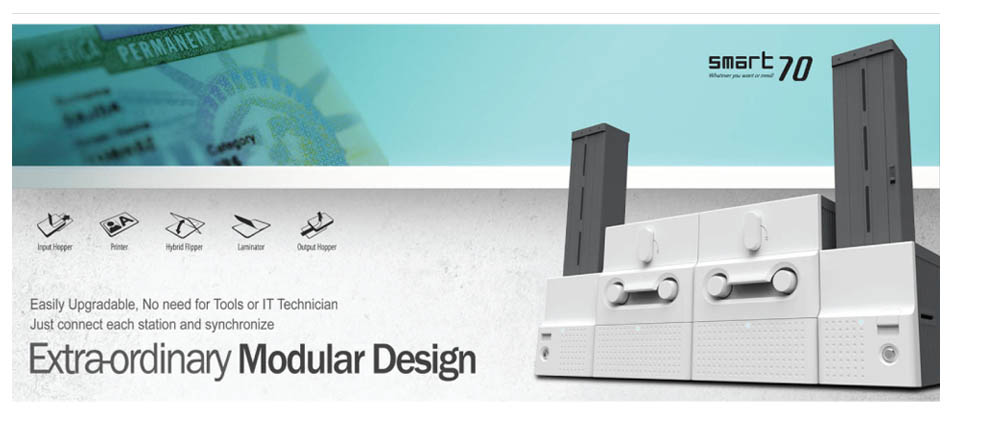 High Quality, Reliability and ConvenienceIDP WISE-CXD80 the printer delivers the maximum impact and easy-of-use with glossy photo, real edge-to-edge printing, remains free of head-damage and offers real versatility all with a dramatically smaller body design.
Ideal for both simpler applications such as single-side membership cards, gift cards, on demand ID cards and for corporate and governmental ID card, the WISE-CXD80 provides the integration of proven, long-established technology with a compact and user-friendly body.
ㆍColor & Mono Single or Dual Sided PrintingㆍPrint Speed : 29 sec./card (YMCK)
ㆍDetachable and anytime-refillable hopperㆍIntuitive and flexible function LCD PanelㆍRemovable and water-washable cleaning rollerㆍSecurity locks on hopper & front doorㆍKensington lockㆍInline encoding and lamination (with optional unit)
ㆍEnvironmentally friendly compact design
Wise-CXD80SS
ㆍColor & Mono Single Sided PrintingㆍPrint Speed: 29 sec./card (YMCK)ㆍDetachable and anytime-refillable hopperㆍIntuitive and flexible function LCD panelㆍRemovable and water-washable cleaning rollerㆍSecurity locks on hopper & front doorㆍKensington LockㆍInline encoding and lamination *OptionㆍEnvironmentally friendly compact design
Wise-CXD80DS
ㆍColor & Mono Dual Sided PrintingㆍPrint Speed: 40 sec./card (YMCKK)ㆍDetachable and anytime-refillable hopperㆍIntuitive and flexible function LCD panelㆍRemovable and water-washable cleaning rollerㆍSecurity locks on hopper & front doorㆍKensington LockㆍInline encoding and lamination *OptionㆍEnvironmentally friendly compact design
SMART PRINTERS VIDEOS
Smart Line of Printers
---
IDP SMART Ribbon Change
---
SMART-30 Set Up
---
IDP SMART-50 Series Demo
---
SMART 70