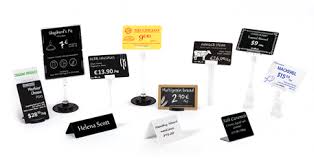 Edikio by Evolis was specially designed to meet the needs of stores, hotels and restaurants, Edikio solutions enable you to easily create price tags, buffet tags and all kinds of aesthetic and practical tags on plastic cards.
Our systems include: A tag printer: single-sided or double-sided printing in either a credit card or long card format
Software for creating and personalizing tags and plastic cards.
A white printing ribbon and PVC cards which are ideal for use in a food environment.
Optional On-Site Installation & training. We can set up and design your templates & databases for you so when we arrive on-site, you are ready to start print. We offer the best customer service in the industry. Let us train you to be efficient & effective with minimal learning curve.
Why Edikio by Evolis? Personalized tags which stand out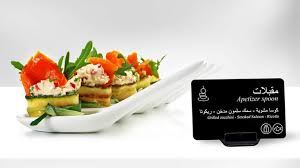 Clearly display your product information on an appropriate medium for the situation
Clear and readable information: provide your customers with all the information they need.
An authentic and high-quality look thanks to the slate-like appearance of the black tags printed in white.
Adaptability: The plastic card holder, available in multiple formats and colors, can be adapted to all your display needs.
Perfectly displayed: Evolis offers a comprehensive line of consumables which are ideal for use in a food environment.
Multi-purpose: Edikio solutions also allow you to make every type of card imaginable, from employee badges and gift cards to events cards and more.
Strengthen your brand image
Edikio labelling solutions – print elegant buffet tags
Original tags: Personalize your tags by adding your logo and the graphic elements you desire.
A professional look for your displays and buffets: it creates a sense of harmony and generate customer interest with attractive tags.
Save time: Maximized flexibility and timeliness: you print your tags when you need them directly at your establishment and thus benefit from being able to create up-to-date tags in real time.
Independence: Free yourself from set delivery times and minimum order restrictions imposed by your label suppliers.
Ease of use: The included software allows you to generate personalized labels in minutes, and the card printer can be used as easily as a standard desktop printer.
Guaranteed to be visible and hygienic
Ideal dimensions: The credit card format does not obstruct the view of your products. The long card format enables you to add more information to your tags and provide better readability for specific situational needs such as in bakeries.
Hygienic and resistant: Very easy to clean, PVC cards can withstand cold and moisture.
Compliance with applicable regulations
To be in compliance with European INCO regulations, stores need to provide all information about their products.
Restaurants and hotels can make their customers' lives easier by displaying the ingredients in their products directly on the cards.